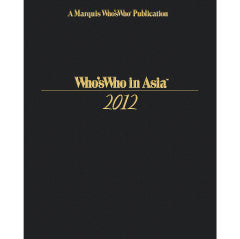 Who's Who in Asia 2012 - 2nd Edition
Release Date: August 2011
Format(s): Hardcover (8.5 x 11 )
Pages: 1,300
ISBN: 978-0-8379-7157-5
Listee Price: $289.00
Retail Price: $365.00

As Asia's influence on the world stage has grown substantially over recent years it has become necessary for Marquis to publish a second edition of Who's Who in Asia with even more in-depth coverage of the major players of this emerging and dynamic continent.

We include over 29,000 biographies of citizens from all countries in the continent of Asia, employing the State Department's list of Asian countries. Our coverage is both broad and deep, not only covering top government officials, corporate executives, Nobel Prize winners, etc, but also covering institutions particular to certain countries which in some cases represent important cultural and economic trends of those countries. Such institutions include Bollywood, Sumo wrestling, Asian space programs, automobile manufacturing, and Russian oligarchs.

In addition to our coverage of such institutional trends, our coverage of more traditional subject areas is also very thorough, including such fields as banking, law, government, education, science, and medicine.
---
We Also Recommend