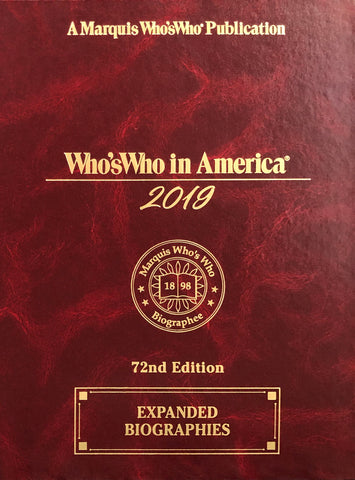 Who's Who in America 2019 – 72nd Edition
Who's Who in America 2019 – 72
nd
Edition
Release Date:
September 2019
Format(s): Hardcover ( 8-3/8" x 10-7/8" )
Pages: 
2,624
ISBN: 978-0-8379-7064-6  
Reference Price: $489
Listee Price: $389
Marquis Who's Who is proud to present the 72nd edition of Who's Who in America. This 2019 compilation features over 7,000 profiles of prominent individuals representing virtually every major field of endeavor.
This 72nd edition includes expanded biographies that include a Q&A component that goes beyond the biographical profile. Here you'll experience thousands of biographies that reach beyond lists and facts to shed additional light on what makes these inspiring individuals who they are. You'll find Nobel and Pulitzer Prize winners, legendary athletes, best-selling authors, accomplished artists, renowned entertainers, entrepreneurs, university presidents and corporate executives, government and religious leaders, innovators/inventors, as well as professionals in the fields of education, law, medicine, broadcasting, publishing, information technology, and more.
---
We Also Recommend